How Water Stains Can Be Prevented From Wooden Fences?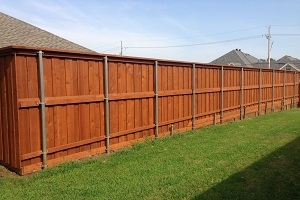 Wooden fences can provide you with a very classic appeal as it can match with a number of landscaping designs & styles.
But, the only downside is that is can be susceptible to collecting the water stains from the rain & snow.
Hence, you need to be proactive in terms of preventing the water strains from occurring. The reasons is that it can very well damage your fence.
So, what you can possibly do is get in touch with a good Celina fence & deck builder company.
You may find a number of companies but the one that truly stands out is Celina Tx Roofing Pro, They are regarded as one of the best Celina Fence company.
Further, they ensure that the curb appeal of the fence is maintained all year around. So, in this blog, we would discuss about how water stains can be prevented from the wooden fences.
Let us have a look:-
Clean the fence on a regular basis
Rain & snow can lead to moss, dirt, and build-up of mildew which can very well cause stain to the fence.
So, it is recommended that fence should be cleaned on a regular basis either through a pressure washer or hand.
Moreover, power washing can come quite handy in terms of cleaning away the mould.
But, you need to be careful as too much pressure can splinter the wood.
Besides this, special attention need to be paid on crevices & cracks where there is a lot of chance for moss & mould to be collected.
If you want to prevent water stain, mould & rot, then make sure to seal the wood once in a year.
So, if a protective layer is applied to the fence, then water won't get penetrated into the fence.
Other than this, it can safeguard your fence from insects as well as other kinds of pests.
On the contrary, if you wish that the appearance of the wood remains the same, then you can make use of oil-based & clear sealant.
Besides this, if you want that fence color is changed, then use a paint which would give you similar kind of effect.
If your area has witnessed a big snowstorm, then you can clear the snow using a shovel around the posts of the fence.
On the other if it is left untreated, then continual moisture can be created which could in turn develop water stains.